Create an Email Share
Runner determines whether you can share either single or multiple assets based on your user permissions. Begin by navigating to the Asset Detail page and selecting 'Share' after clicking the

 icon.
---
Step 1: Navigate to the asset(s) you would like to share. Click

and select 'Share' from the context menu.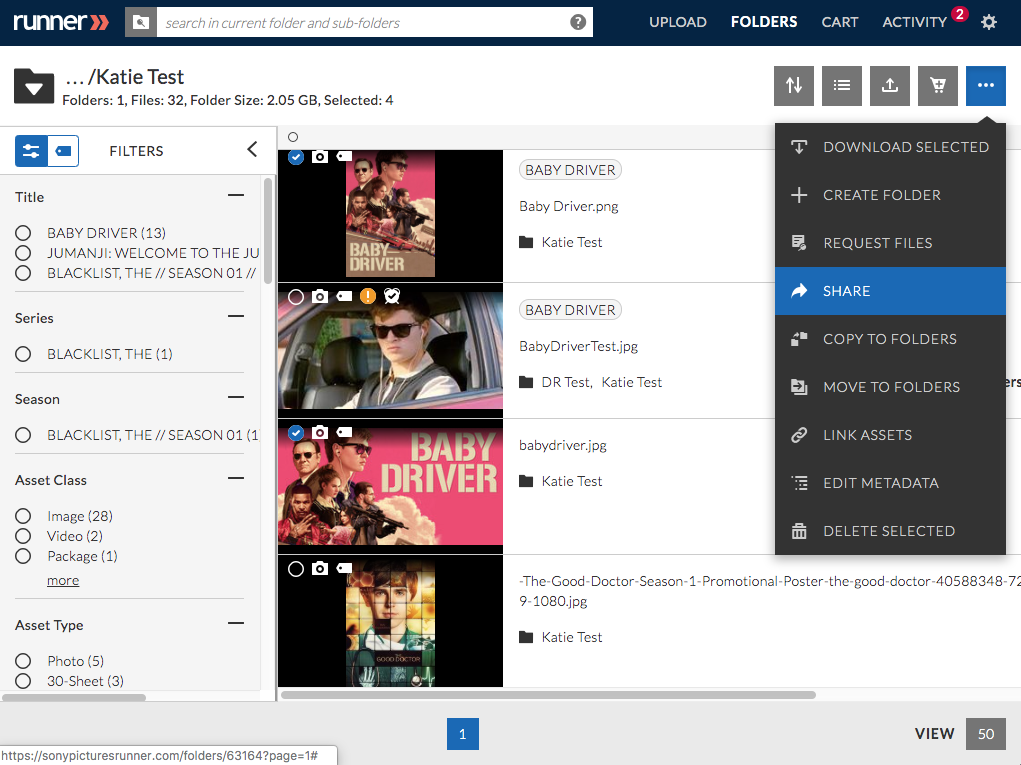 Step 2: Click 'Email Share' and enter the recipient's email address(es), subject, and message. Select the email branding, permissions, expiration date, preview limit, and download limit for this share.
Preview Only: recipients can only view the asset(s), but not download them
Download: recipients can preview and download the asset(s)
Proxy Only Download: recipients can preview and download the asset's proxies
Auto-Preview: will preview the asset(s) automatically when the recipient opens the share
Protected Share: will prevent shares from being forwarded to unintended recipients (the recipient will have to verify themselves in order to access the shared assets)
Include Metadata: recipients can view metadata associated with the shared asset(s)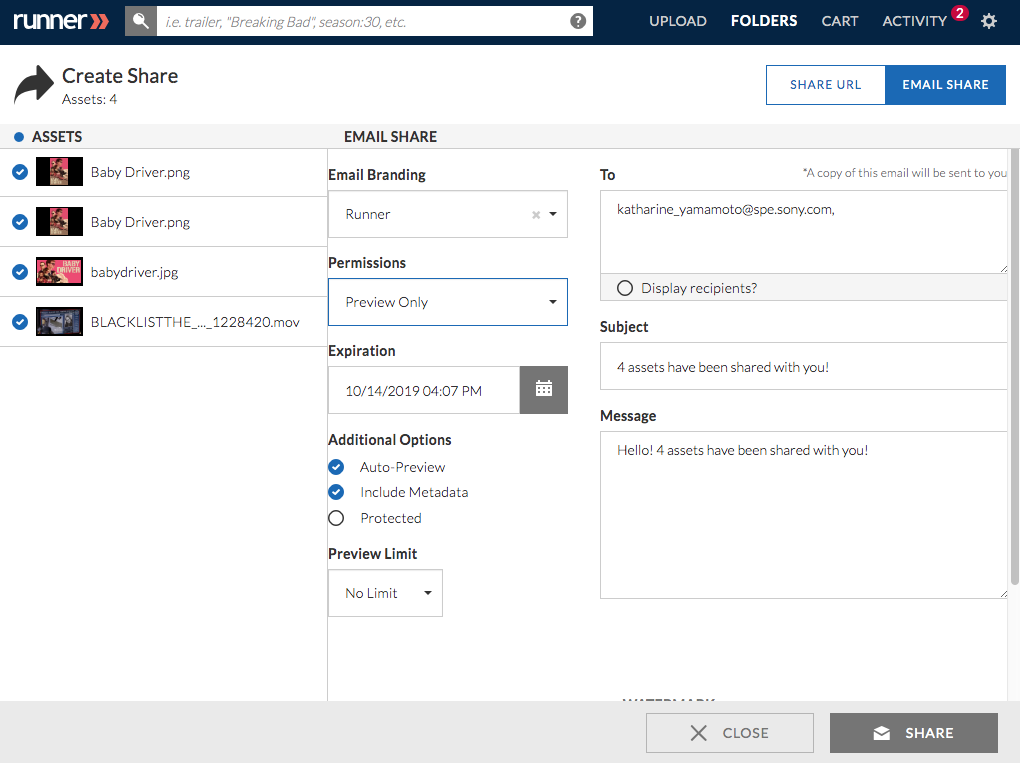 Step 3 (Optional): Depending on if you select a preview-only, download, or proxy-only download share, you can add an overlay, burn-in, or forensic watermark to your selected assets by selecting

. After all selections have been made, click 'Share'.
Overlay Watermark: the watermark is added as on overlay to the media player on the share page and is only available on preview-only shares
Burn-in Watermark (Video Proxies Only): the watermark is burned-in to the video for streaming and download 
Forensic Watermark (Video Proxies Only and Subject to Asset Eligibility): the forensic watermark is applied to proxies that meet or exceed the dimensions of 960×540 and adds an invisible serial number to video content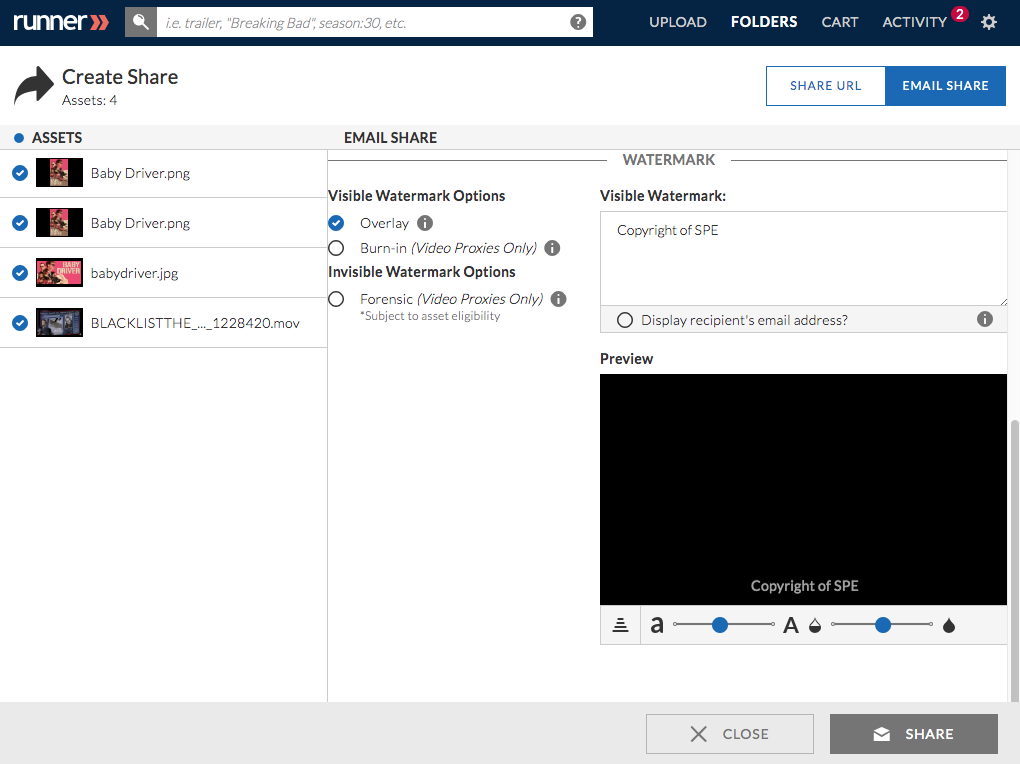 Step 4: An email notification will be sent to the share recipients.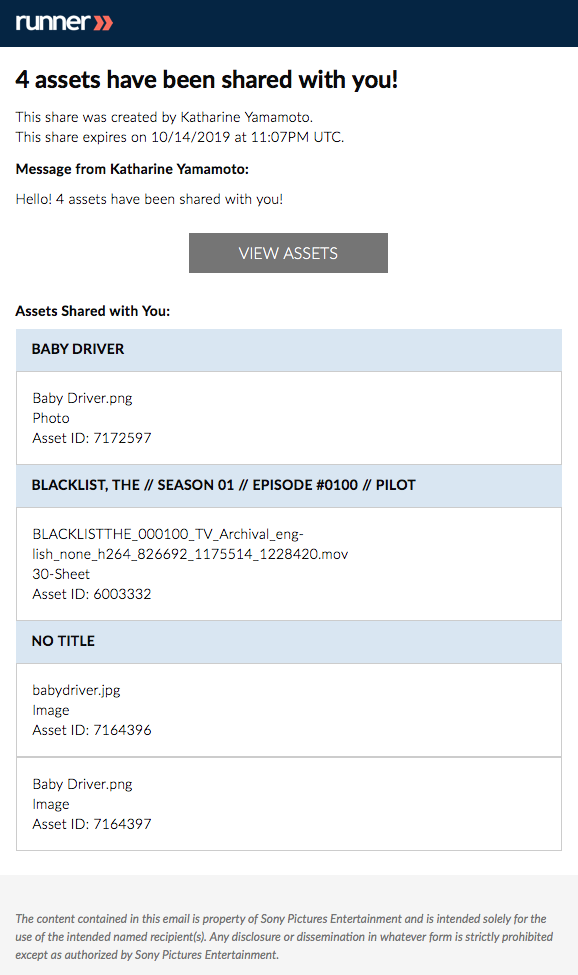 Step 5: From the share page, recipients can preview or download shared assets without logging into Runner.